Military veterans make outstanding employees. They hold valuable skills, such as discipline, leadership, teamwork, adaptability, and assets that transfer over to any workspace. Companies recognize the value the veterans can bring, which can be beneficial in various industries.
For the benefit of the doubt, military veterans are the ones who served in the active military, naval, or air service and have completed their service obligations or were medically discharged from the military.
If you want them to be a part of your business, here are some simple yet effective ways to work on your veteran hiring efforts:
Use Military Networks – Posting to popular websites to attract veteran candidates might help. However, you must utilize veteran networks, career fairs, and space to give you enough knowledge on how you will choose the right veteran candidate for your company. Collect email addresses and touch base frequently with transitioning military personnel before they depart the military.
Rather than just looking at the academic degrees, focus on experience and competencies. Many employers tend to pay attention to educational background instead of experience. While it might make sense, you can ask yourself if these are critical to the position or if they only serve what you want to see in a candidate.
If they can do the job and have the skill, then you are already looking at the right candidate. Who knows? There might be candidates who don't have formal education but have the right skills.
Establish Partnerships – Companies that are interested in hiring veterans can partner with military transition programs, veteran organizations, and military bases to establish connections and gain access to talented veterans. The partnership can help in identifying potential candidates.
Meet Standards – Veterans are loyal. Like any other employees, they have their needs and priorities. Meeting those needs can contribute to job satisfaction. If the environment does not meet their needs, they tend to leave quicker than non-veterans. They are often interested in:
Challenging and engaging opportunity. Veterans are driven by their sense of purpose. They appreciate roles that can apply their skills.
Clearly stated expectation. Stating a clear understanding of their responsibility will help them perform effectively.
Pathway Advancement. They appreciate organizations that provide opportunity and growth advancement. Seeking progress and success.
Clear Communication. Being in the military, they are accustomed to direct and open communication. Transparent communication helps them feel connected.
Mentorship. They would appreciate an experienced person to provide guidance and support in the training or transition period.
Compensation and benefits. All employees, like veterans, look for benefits as an essential factor when looking for a job. Fair and competitive compensation packages, including salary, healthcare, retirement plans, and other benefits, contribute to their job satisfaction and overall well-being.
Track Hiring Pipeline Data – You can identify where you lose or gain a veteran by monitoring the candidates at every stage. Search where there is a fall-off at a certain stage. The success of recruiting veterans depends on various factors including, outreach efforts, reputation if the company is veteran-friendly, job opportunities offered, and branding.
Learning Military's Culture, Values, and Language – Understanding the military's culture, values, and language and sharing the knowledge with the company including the business leaders, HR, and hiring managers, helps in effectively engaging military veterans.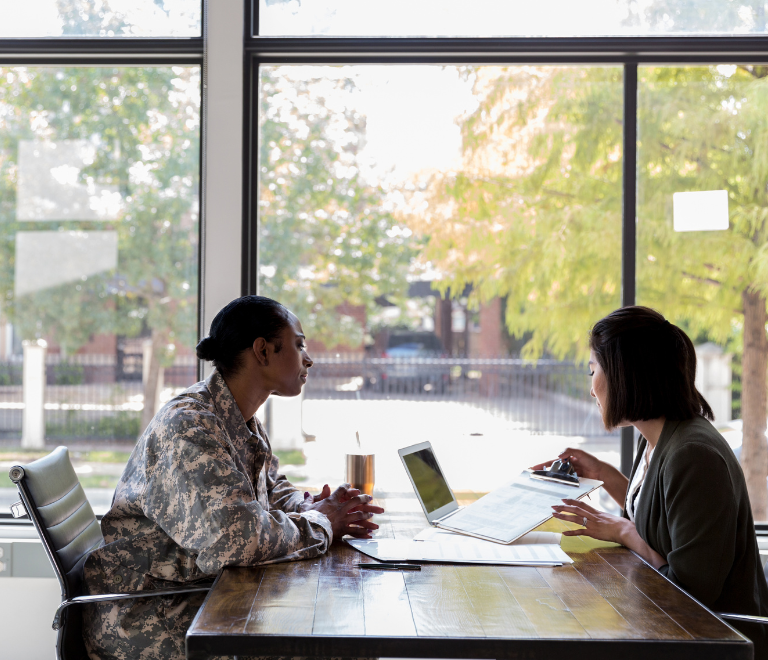 Educate HR and hiring managers about understanding military resumes, job languages, and job titles. Some agencies provide programs, in-person training, and online resources seeking to hire veterans.
Making efforts to understand them and their culture also helps retain veteran employees. You can also ask the veterans if they want to work as a recruiter or be an advisor for the company in hiring new veterans.
Address Misperceptions – Employers should be aware of the perceptions of military-connected talent in their organization. While many employers recognize the highly coveted attributes and skills that veterans bring to the workforce, there can still be misconceptions or unfavorable reactions toward military-connected talent.
Unfavorable reactions towards military-connected talent are not unheard of. Reactions may arise due to concerns like PTSD or assumptions about combat-related experiences. Some resistance may also include:
HR or hiring managers who do not understand veteran resumes and what they can do
Recruiters who are looking for something that is not available in a veteran's resume
Someone who can lead and not just follow orders
Looking for credentials and certification
Don't have an interest in thinking that they're just going to be relocated
It's essential to address these misconceptions by educating non-veteran employees and having awareness.
Having support and understanding, could create a more welcoming environment for the military veterans and fully leverage the valuable contributions they can make to help the company succeed.
Interviewing Effectively – Using behavioral and situational interview styles can be effective when interviewing candidates with a military background. These interview styles offer the interviewer the best opportunities to engage applicants in meaningful conversations and elicit more detailed responses.
Military personnel may not elaborate on or boast about their accomplishments, scope of authority, or responsibilities in the same way that might be common in some civilian contexts. Instead, they highlight their achievements as a team and their contribution to the overall success of their mission or project.
Behavioral Interviews. In this interview, the candidates are asked to provide examples of their past experiences and actions they have taken. This approach is well-suited for military-connected individuals as it allows them to share their experiences and how they demonstrated their skills in various situations.
Situational interview. Provide hypothetical scenarios that candidates may encounter in the workplace and ask them how they would respond. In this kind of interview, veterans can showcase their decision-making skills and ability to handle the situation.
Both behavioral and situational interviews encourage veteran candidates to provide more in-depth responses and away from formal communication styles. With the help of these interviews, they can showcase their full skills, experiences, and abilities. This helps interviewers understand them more and their potential fit for the position.
Having a comfortable and welcoming ambiance can help veterans be more relaxed and have an open conversation. Showing interest and understanding and encouraging them to express themselves fully during the process can also help them feel more at ease and retain the value that military veterans bring to their organizations for years to come.