Driving a liquid bulk truck can be challenging. The good news, however, is that the liquid cargo may reach its destination promptly, safely, and securely with the help of the right transporter.
In this post, we'll take a deeper look into liquid bulk carriers and learn what it's about, how it works, what makes them different from other kinds of trucks, and many more.
What Is A Liquid Bulk Truck?
As the name suggests, liquid bulk truck freights transport liquids. Using a specialized container, these liquids are transported for manufacturing, food processing, and agriculture throughout the country.
Alcohol, food-grade vegetable oil, milk, juice, syrup, vinegar, temperature-sensitive liquids, solvents, and dangerous chemicals are some of the few examples of the liquids transported.
Instead of being placed in containers, these liquids are put right into specialized tanks for transportation. Tanker trucks, which are identical to the trailers used to transport other kinds of cargo, are used to transport these tanks. They frequently have a cylindrical shape, although they can also have a wide range of sizes and shapes.
How Does Bulk Liquid Transport Work?
Liquid bulk is far more difficult to transport than solids or dry bulk — that's why more truckers choose to steer clear of this.
Spills are more likely to occur with liquids, making transportation more challenging than it would be with non-liquids. Along with that, the liquid will probably be transported by trucks over a distance of several hundred kilometers.
As mentioned above, the liquid is not contained in a container before being placed in the truck. Typically, the liquid is just poured straight into the tank on the rear of the truck. Before starting their journey, truck drivers must make sure there are no leaks of any kind.
A little hole might cause a significant loss. 
Due to the possible risk of the products being transported, even minor leaks necessitate the intervention of a skilled chemical cleanup service.
Transportation usually involves these steps:
1. Essential examinations are done.  
Before liquids are injected into the tanker truck, a thorough examination takes place. 
Any dents or fissures could lead to potential leaks while traveling, and the trucking company's reputation could be ruined. 
Customers are let down if there is any damage or filth on the inside of the tanker barrel, which could lead to contamination or product loss. 
2. The tank truck will be pressurized to see if it can transport the liquid. 
This guarantees that the tanker is secure and strong enough to handle liquids. 
It will be necessary because the journey might take a day or more and the road conditions might be erratic.
3. The liquid will be pumped in after it has been confirmed that the tanker is strong enough.
Tanker trucks are loaded at loading sites using onboard pumps, air compressors, or gravity. 
The loading procedure can take anywhere from one to four hours to finish.
Despite not being emphasized, drivers must use extreme caution. 
More care must be taken when handling liquids than dry bulk items.
A sharp turn could cause the liquid to splash, changing the container's overall direction and increasing the risk of disastrous rollovers. 
Everyone on the road is at risk as a result, including the driver.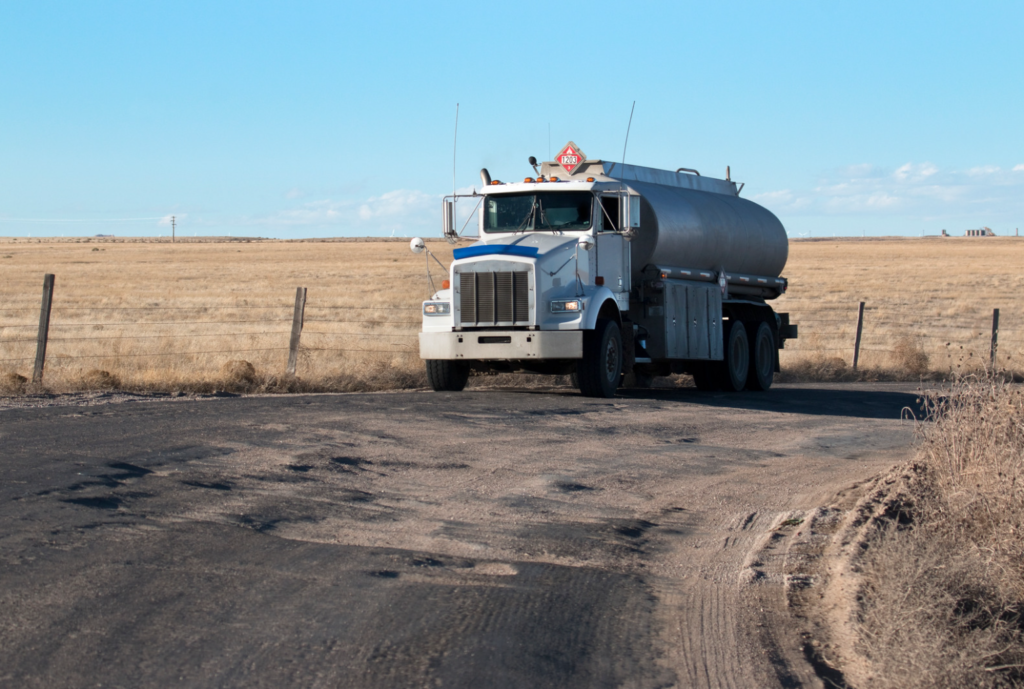 Special Tanks For Liquid Bulk Carriers
Specialized tanks, which are frequently built of aluminum or stainless steel, are needed for the transportation of liquid cargo. 
What you should know about these specialist tanks is as follows:
Temperature
For a safe transportation process, several liquid freight kinds require temperature controls. To safeguard and preserve the correct temperature for the duration of the travel, insulated tanks are offered. These tanks might also have steam coils that use steam to assist regulate the temperature inside the tank in addition to insulation.
Special plumbing that can transfer antifreeze from the truck's radiator and circulate it around the tank while it's actually on the road is another potential feature of temperature-controlled transport tanks. Since the steam coils can only be used when the truck is parked, this feature is helpful.
The trailer can be heated and cooled using this antifreeze system. It's crucial to work with reliable trucking companies that are knowledgeable about the complexity of liquid bulk transport if you want to have the assurance that your cargo will remain at the ideal temperature during its trip.
Weight And Volume
The majority of liquid freight trailers have a capacity of 6,000 to 7,000 gallons. 
There are "tight fill" tanks available, albeit they have a 5,000-gallon capacity limit. 
These smaller containers, which are fully loaded, can assist shield liquid cargo from movement during shipping.
Gallons and pounds are the most frequently used units while working with liquid freight.
Pressure
The pumps and compressors are used to load and unload the liquid freight and maintain the tank's pressure. These are the last parts of a liquid freight transport tank.
Although air compressors may be more practical than pumps, combustible substances cannot be utilized with them. 
What Is A Liquid Bulk Truck Driver?
A liquid bulk truck driver is responsible for importing and exporting liquid goods to different places. 
The average annual wage for a liquid tanker driver in the USA is $78,000, or $37.50 per hour. 
Most experienced workers earn up to $93,600 per year, while entry-level roles start at $54,600.
How To Become A Liquid Bulk Truck Driver?
To become a driver for liquid bulk transport, there are some requirements, such as the age (must be at least 21 years old), a Commercial Driver's License (CDL), an over-the-road training program, a medical card, and to pass a DOT physical and the mandated drug screening.
How Can I Find a Transporter for Liquid Freight?
Liquid freight is not transported by everyone. So, where can you find a liquid bulk transporter? 
Here are some things you can consider:
Make sure your transporter has a sizable, knowledgeable network of carriers that can move your liquid cargo.

Verify that your carrier has a history of sending shipments securely and safely.

Make sure your transporter can deliver your shipments to their location quickly.

Make sure your carrier has positive testimonials from previous customers, and feel free to request references.
To learn more about liquid bulk carriers or the trucking industry, follow our official Instagram or click this link.