When you do a quick search on Ice Road Trucking, the reality TV show "Ice Road Truckers" might show up. It's not surprising though since it's been on the air for 10 years with more than 100 episodes.
But today, that's not what we're going to talk about. Instead, we're going to dive deeper into this type of truck that, as the name suggests, is designed to transport goods on icy roads.
We're going to focus on what it's about, how to become an ice road truck driver, how dangerous is ice road trucking, and many more.
What Is An Ice Road Truck?
Ice road trucks drive on ice roads, which can be man-made or naturally built on frozen lakes, rivers, or other water surfaces. 
Alaska and northern Canada are the main destinations for ice road truckers in North America. The ice road season is brief, and the roads are constantly well-maintained during it. These roads are used by ice road drivers to transport cargo to locations that are only accessible by trucks.
How To Become An Ice Road Truck Driver?
Whether it's the thrill that comes along with the job or the ice road trucking salary, it's crucial to know about the basics if you want to become an ice road truck driver.
First of all, it comes with a few qualifications like all jobs, and each trucking company will have its own requirements, which might include the drivers' driving records, driving experience, certifications, training, etc.
Usually, trucking companies prefer local truck drivers since they have experience driving under difficult winter driving conditions. It would be beneficial for you to work in places with blizzard conditions, such as Wyoming, Colorado, or Montana if you are an American who wants to become an ice road trucker.
Only a small percentage of truckers who apply for ice road trucking jobs end up getting hired.
The ice road firms would likely avoid your application unless you've been "recommended" or know someone in the industry. Whether this is fair or not, it's the reality given that it's a rather small community.
However, don't get discouraged.
Due to the extremely high turnover rate, there are several open ice road trucking jobs to apply for. Just don't give up on your application and your perseverance may pay off if you keep trying.
As for the qualifications, a commercial driver's license (CDL) with the appropriate endorsements is required, as well as the ability to drive in extremely harsh winter weather conditions. 
You might need a Class A CDL for the majority of ice road driving jobs and other endorsements to transport hazardous materials (HAZMAT) or heavy loads depending on your duties. 
By enrolling in and passing the CDL exam, you can begin this professional path. Drivers who have prior expertise driving trucks in winter conditions are highly preferred by employers. You might need to work with an experienced ice road trucker because getting this expertise can be difficult.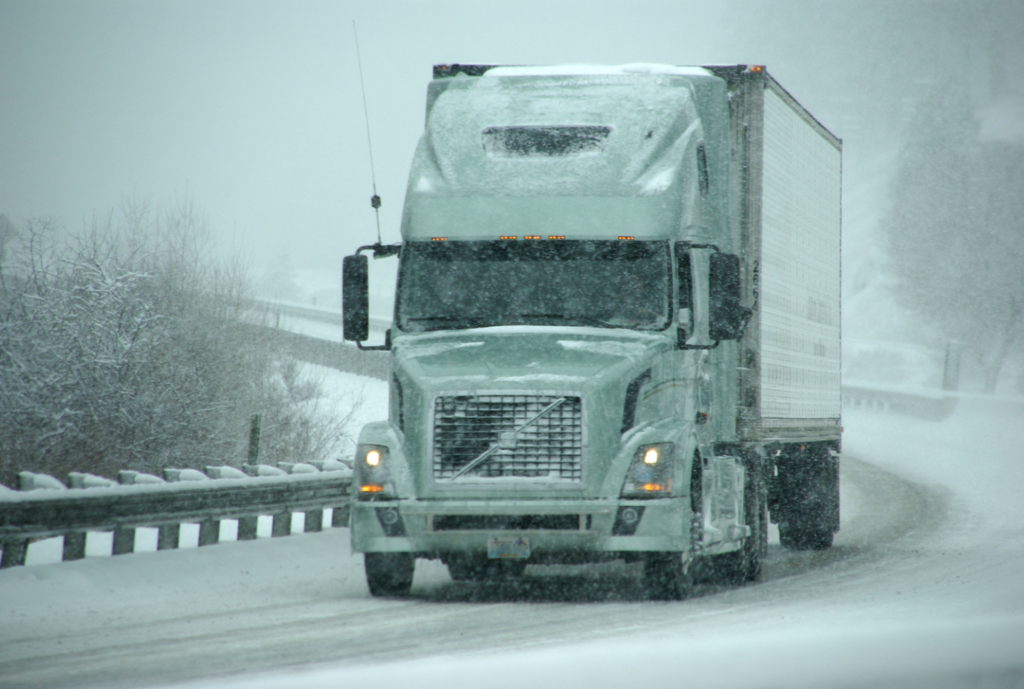 How Dangerous Is Ice Road Trucking
One of the most obvious drawbacks of ice road transportation is a huge risk that it carries. 
Considering how much time they spend driving, all truck drivers are at a considerable level of danger, but the chances for ice road truck drivers to be at risk are higher. Whiteouts, avalanches, and bitter colds can result in problems that can be deadly or moderately problematic. After all, it's the weather that dictates the show.
Drivers on icy roads need to prioritize safety above anything else. Experienced drivers need to have faith in their abilities while also being aware of nature's force.
Pros Of Becoming An Ice Road Trucking Driver
Bigger Pay
The salary is one of the main motivations for ice road truckers to take the profession. Even though the season lasts only a few months, a professional organization can offer extremely good income. Drivers claim to have made between $20,000 and $80,000 over the season.
More Time
Another significant benefit for drivers thinking about working on icy roads is time. The majority of jobs are available from roughly mid-January to mid-March because the season is so much determined by the weather. Drivers will have the remainder of the year to plan their activities after those first two months. Some people may need to start looking for new driving jobs in the off-season as a result. Others might just prefer spending more time at home with their families to balance the time that they're away from work.
Driver's Protection
Nobody will contest the fact that driving on icy roads is a risky job. To protect drivers, there are numerous safety precautions and laws in place. Ice road trucking businesses rigorously train drivers, conduct routine equipment inspections, and strictly maintain the ice roads. When accidents happen, the stakes are significant, yet businesses pay close attention to driver safety.
Cons Of Becoming An Ice Road Trucking Driver
Harmful Breakdowns
Breakdowns can be more than just a minor inconvenience for ice road truckers who operate in places with extremely low temperatures. Any amount of time spent in the open air can be extremely hazardous, and stopping can do serious damage to your truck. So what's the golden rule? NEVER shut off your engine. 
Any issues with your rig might easily become worse in the cold. Maintain emergency and additional supplies in your truck. To protect drivers, many businesses now dispatch trucks in groups.
Limited Communication
It should come as no surprise that the vast, icy north, where ice road truckers travel, has very little mobile coverage. That indicates that when driving, the drivers engage in little to no social interaction or business engagement. The capacity to conduct repairs on the road requires drivers to be self-sufficient, independent, and confident in their skills.
Is Ice Road Trucking Worth It?
Ice road trucking is a difficult job, and many truckers give up after their first journey. On the other hand, it's an opportunity unlike any other for drivers who fall in love with ice road trucking. It may not be a cup of tea for everyone, but for some, it's a fulfilling career.
To learn more about trucks and their industry, visit our website or click this link.