The National Truck Driver Appreciation Week may be done, but it's always a good time to thank our truck drivers for the service they provided. 
COVID-19 has made it particularly difficult to receive the supplies we require, but the 3.5 million drivers across the country work diligently to keep homes and businesses provisioned. 
Truck drivers go above and beyond for us, delivering everything from food and clothing to personal protection equipment and medicines in high-risk locations safely and securely. These four suggestions can help you express thankfulness this week and every week.
How To Say Thank You To Truck Drivers
Thank The Drivers Up Front
Simply say "thank you" to a truck driver the next time you meet them at a stop, especially in light of their ongoing efforts during the pandemic. 
Offer to pay for their sandwich or coffee or give a gift certificate to a well-known chain restaurant if you'd like.
Contribute To A Nonprofit That Supports Truck Drivers
Some humanitarian groups exist specifically to help truck drivers and their families in times of need, including hot meals, free vaccinations, counseling services, assistance with medical and funeral costs, and more. 
One organization even transports animals from shelters to their new homes and returns missing pets to their owners.
Support Legislation That Benefits Truck Drivers
Truck drivers nowadays are constrained by excessive regulation, which makes their tasks more challenging than necessary. 
By allowing flexibility with driving times and distances, rest breaks, and electronic log device (ELD) difficulties, commonsense hours-of-service (HOS) reform would benefit drivers. 
By providing specialized money to increase capacity, supporting the Truck Parking Safety Improvement Act would solve the chronic scarcity of secure truck parking spots.
Respect Goes A Long Way
When driving, show respect for truck drivers. 
There are several blind spots all around a large truck, particularly on each side. In reality, if the driver appears invisible to you in the rearview mirror, it's the same thing for them — they can't see you, too.
In actuality, the driver is unlikely to be able to notice you if you are invisible to them in their rearview mirror. 
In particular, when merging, make an effort to be visible. 
You should never cut off a truck because the driver might not see you in time to prevent a collision. Trucks take longer to stop because of their size and weight. 
In addition, whenever you see a truck's turn signal flash, be on the lookout for wide turns, even into adjacent lanes.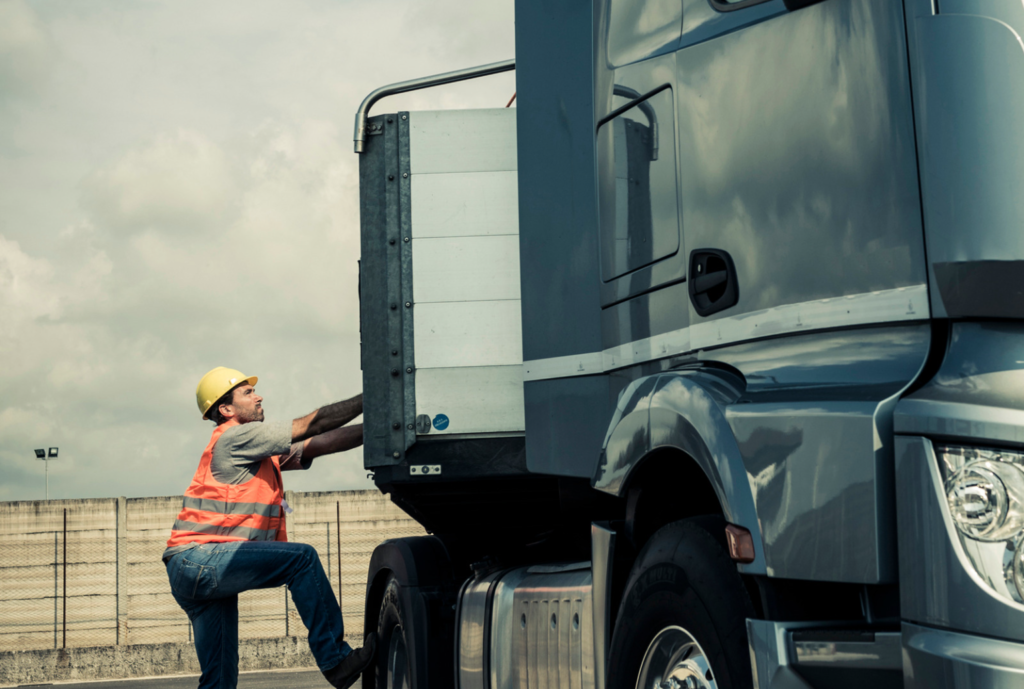 More Ways On How To Thank Truck Drivers After
Contribute To Keeping The Road Safe
The best and most significant way to express your gratitude to professional truck drivers for their assistance may be by doing this.
80% of all semi-truck accidents, according to the American Trucking Association, are brought on by automobiles. The best thing any motorist can do when sharing the road with a trucker is to do your part to keep truckers safe so they can get home to see their families.
Send A Thank You Note To A Driver's Employer
Truck drivers frequently go beyond what's expected of them. They will make an effort to buy a homeless person a meal, stop to assist stranded drivers, allow a curious child look inside the truck, or honk the horn for them.
When you observe these things – no matter how small the gesture is – you can appreciate their work by taking note of the trucking company they are from and getting their contact information, if possible. 
Try noting down the truck's number if you can't acquire the driver's name. Then, contact the driver's employer by email or through one of their social media accounts, which you may locate on their official website.
Many businesses offer incentives to drivers and reward those who go above and beyond to fulfill their duty.
Thank Truck Drivers Online
Thank-you postings on social media always seem to find their way to drivers, regardless of whether you have a sizable following or just a few pals. Take the opportunity to remind people of the significance of truckers to our economy and way of life.
Additionally, remember to express your gratitude to any family members who had to miss a significant occasion due to travel.
Make Your Company Accessible To Drivers
If you run a delivery-oriented firm, you have many opportunities each day to express gratitude to drivers.
Among the ways to make your company more accommodating to drivers are:
Put a banner thanking drivers on your pier.

Ensure that drivers have access to bathrooms and, if possible, a space to unwind while waiting for the processing of paperwork.

Gift baskets, gift cards, or even just bottled water and snacks go a long way when given to truck drivers.

Encourage your staff to check with drivers as they arrive at your facility to see if they need anything.
Raise your own and others' knowledge
There's a negative stigma around truck drivers. Some of these include some four-wheelers colliding with cautiously turning, accelerating, and merging truck drivers while huffing, puffing, swearing, and honking.
Numerous relevant pieces, including this one, have been published in response to the coronavirus epidemic that highlight the crucial role truckers play in delivering essential supplies across America, both in times of emergency and beyond. 
Advanced Trucking Recognized Truck Drivers
Everyday heroes like truck drivers are deserving of our gratitude and support. 
At Advanced Trucking, we recognize truck drivers by providing a safe and supportive community, which allows them to grow their own businesses, get the compensation they deserve, enhance their skills, and many more.
If you're an operator-owner and you want to be a part of our team, click this link to get started.