Autumn has officially started and while it makes the outdoors beautiful, it also brings a new set of seasonal risks for truck drivers. These include shorter days, heavier traffic, and more road challenges for truck drivers.
But don't worry, this post comes with 10 fall safety tips that can help both new and seasoned truck drivers.
10 Safety Fall Tips For Truck Drivers
1. Keep an eye out for school traffic
Local truck drivers who spend a substantial amount of time driving in cities should keep school traffic in mind. The return of students to school means:
There are more school buses on the roads.
Crossing guards on the highways.
Parents who drop off and pick up their children in school zones.
Even if you're driving on rural country roads, it's critical to pay attention to school bus stop ahead' road traffic signs. Be prepared to come to a halt when buses drop off or pick up students.
2. Keep an eye out for farmers and big equipment
In autumn, combines, tractors, trailers, and other farm equipment are on the road as they harvest the crops and winterize the fields.
Agricultural equipment like tractors are typically slower, so it's safe to provide plenty of space behind them.
3. Examine the headlights and taillights
As mentioned, days are becoming shorter during fall, and this might mean spending more time traveling around sundown or while it's dark out. Therefore, ensure that your headlights and tail lights are in good working condition to avoid unlikely situations.
4. Stay Cautious
Leaves on the road or stacked on the side of the road might be among the most dangerous fall-driving hazards.
Pavements might become as slippery as ice because of the wet leaves sticking to them. Meanwhile, dry leaves might make potholes, puddles, ice, bumps, and other hazards hidden.
Drive through the leaves as you would on ice or snow and consider these tips:
Increase the distance you follow.
Examine the leaves to determine if they glisten with moisture when the light touches them.
Children love to play in piles of leaves on the side of the road. As you travel through city streets, keep an eye out for leaf heaps and pay close attention to any movement you notice.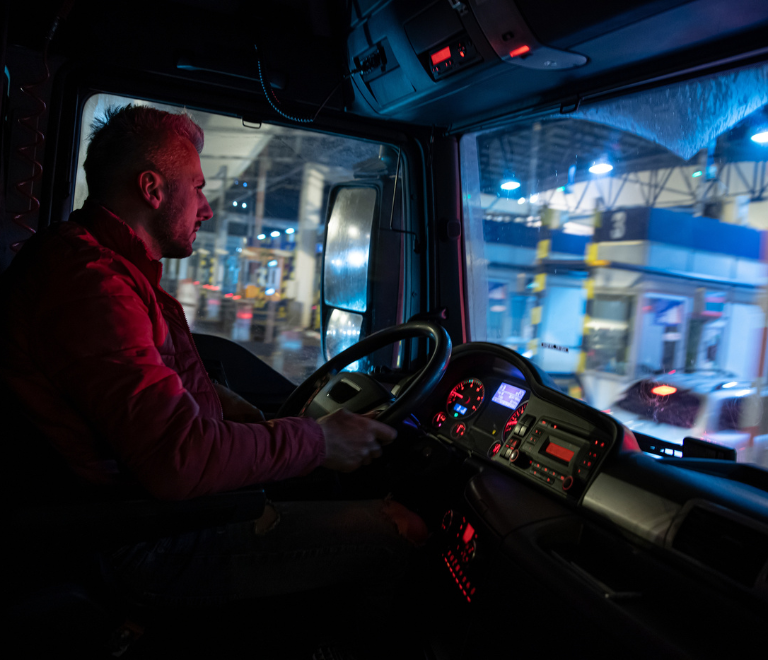 5. Keep an eye out for wildlife, especially deer
Because it is mating season for deer, they are more active in the fall. Other creatures are also migrating in search of new habitats.
Work on your driving style with these tips:
Keep a watch out for reflections on the road or in the woods, as they could be a deer's eyeshine created by the headlights.
Driving a little slower through woodland regions with more active wildlife.
Set your scan pattern to monitor the roadside every six to eight seconds.
6. Keep your sunglasses close at hand
During autumn, the sun is lower in the sky, making sunrise and sunset very bright. As a result, truckers are subject to substantially greater glare. This makes it difficult to see other cars ahead or surrounding the truck.
Always keep a decent pair of sunglasses on hand, and make sure your visors are correctly adjusted.
7. You should brace yourself for fog
Mornings in the fall are significantly cooler, and fog is more likely to form. This is particularly true at higher altitudes.
Driving in fog can be unpredictable and take you by surprise, so be sure to:
Increase your seven-second following distance by two.
Slow down.
Turn on your low-beam headlights.
8. When planning a trip, keep weather forecasts in mind
Mother Nature's transitional season is fall, which means you can go from sunny and dry to gloomy and snowy in an instant.
Trip preparation is the first step in preparing for weather variations. On longer runs, pay close attention to weather forecasts and shifting conditions. Also, have your truck driver emergency kit on hand.
Be especially cautious when traveling across the highlands. At this time of year, rain can swiftly convert to sleet or snow. Keep an eye out for shady locations on the road where black ice can form, as well as bridges that can ice up before the roadways.
9. Bring your chains
Chain regulations take into effect in Colorado and California in September, and the rest of the country shortly after.
Check that your chains are in good condition and are in your truck. It's also a good idea to brush up on how to properly install tire chains on your semi-truck.
10. When coupling your trailer, use particular caution.
The grease on the fifth wheel thickens as the weather cools. This implies that while connecting to a trailer, the jaws may take longer to engage.
When tying up your trailers, be patient. Before driving away, always make sure the jaws are firmly engaged.
These are just some tips to help you have a safe and happy drive this fall. If you have more, we'd love to hear them in the comment section.
Thank you!